I started a new feature on the blog, News You Can Use.
I haven't come up with a direct schedule plan as of yet, I'm still testing this new meme. Leave me a comment on your thoughts, thanks!!
I'll be posting news/events in the book world.
Information from Authors, Publishers, Blogger news, Giveaways and anything else that may be helpful to you.
If your hosting an event and want to be part of the news post contact me, leave a comment below or e-mail me directly here pnrurbfantasyreview @ hotmail.com
Author News:
Thea Harrison

just unveiled her newest book cover and I love it
An all-new, darkly romantic paranormal saga, in which the fate of existence itself lay in the balance—and the key to victory may rest in the hands of two eternal lovers…

In the hospital ER where she works, Mary is used to chaos. But lately, every aspect of her life seems adrift. She's feeling disconnected from herself. Voices appear in her head. And the vivid, disturbing dreams she's had all her life are becoming more intense. Then she meets Michael. He's handsome, enigmatic, and knows more than he can say. In his company, she slowly remembers the truth about herself…

Thousands of years ago, there were eight of them. The one called the Deceiver came to destroy the world, and the seven came to stop him. Reincarnated over and over, they carry on—and Mary finds herself drawn into the battle once again. And the more she learns, the more she realizes that Michael will go to any lengths to destroy the Deceiver.

Then she remembers who killed her during her last life, 900 years ago…Michael
Goodreads
Nicki Jefford
is looking for bloggers to participate in the Bloody Christmas Giveaway, info below and
HERE
Want to help promote four fang-tastic paranormal authors and gain new followers in the process?

Post at any time between December 1 - 25. A Rafflecopter code will be emailed to you once you
sign up here
.

Entries are simple and easy:
- Free entry for vampire fans
- Tweet about the giveaway
- Follow the host's (your!) blog

One winner will receive all four e-books pictured above. Winner may substitute any of these titles for another by the same author within the same series.



Sarah Ballance
is looking for bloggers to help her promote a book:
**If you have a blog (of any type – it doesn't have to be a book blog) and want a shot at a $25 gift card to Amazon or Barnes & Noble, you're in the right place. To qualify, all you have to do is help me promote A PROMISE FOR HER LOVE, the new 99 cent Christmas release from Elaina Lee. This is a *sweet romance* suitable for all ages – perfect for the whole family! Ready to start sharing? Here's what to do. Find out
HERE
Pub News:
In case you missed it here are some new book trailers, Enjoy!!
Blogger News:
It's all about the hops, challenges, and discussions!!
Kimba the Caffeinated Book Reviewer has once again managed to come up with a great idea, and you all should join!! A TBR pile challenge--yes, please--always great to get a little push to challenge yourself! Sign Up

HERE

and join in the fun!
Fangs, Wands, and Fairy Dust, a blog site that I recently found is having a great Valentine's Hop Giveaway Link up. Since I'm always looking to find new and different features for my blog, and find new blogs to follow I decided to join up. Interested? Sign up info

HERE

Let's Talk w/Smash & Kit is a meme I recently came across. I love the idea
and hopefully I will join in on the discussions, in the future

.
Per: Smash's site
Welcome to the Let's Talk weekly discussion meme!
Originally hosted by
Melissa from i swim for oceans
, Smash & Kt took her original inspiration, and made it their own, expanding it to more than just books. Let's get personal (but respectfully so) and learn more about one another! Each week, a different question will be posted along with a place to link up your posts and visit other people's responses. This meme is definitely meant to bring out conversation and meet new people. So, Let's Talk!
Want to join and Link Up? This Weeks discussion is all about:
How much time do you think you spend on blogging each week, including commenting on other blogs, participating in events, Twitter/Facebook blog talk, etc? Do you have a time management system that works well for you? We'd love to know!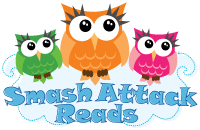 Don't forget you have about a week left to enter my Blog Makeover Giveaway
Prizes include a $30 Gift Certificate to Xpresso Design, a copy of Black City or Phoenix