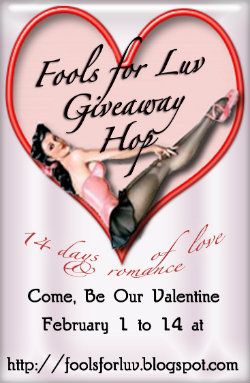 Welcome to the Fools For Luv Giveaway Hop
14 Days of Giveaways, Guest Post, and More!!
Authors who will be stopping by daily on the Fools For Luv sight
Jennifer Estep ~ Darynda Jones ~ Olivia Cunning ~ Laura Kaye ~ Coreene Callahan
Tara Sivec ~ Suzanne Johnson ~
Lisa Kessler ~ Cecy Robson ~
Delilah S. Dawson ~ Joey Hill ~

Lynsay Sands
Check out all of the amazing authors who are stopping by the official
Win Amazing Prizes from authors, pubs, and bloggers! See the full list of participants
HERE
Here is a sample of what you can win from the Fools For Luv site

HERE

*Prizes ABOVE are not included in my giveaway but can be found on the Fools For Luv sight ONLY

66 Participating Bloggers /Authors with their own
My giveaway for the hop has me wanting to share the amazing HOT books that I've read or want to read.
Read, Loved, and Highly Recommend!!



1 Winner will have a choice of Paperback OR E-Book of any of the eight books I listed above
INT - as long as Book Depo. or Amazon or B&N delivers to your address/E-Reader
Must fill rafflecopter to be entered into giveaway
Winner will have 48hrs. to respond to winning e-mail
Delivery of winning book may take up to a month to arrive after winning
Good Luck! Thanks for entering!
a Rafflecopter giveaway