I
started a new feature on the blog, News You Can Use. See past posts
HERE
I haven't come up with a direct schedule plan as of yet, I'm still testing this new meme. Leave me a comment on your thoughts, thanks!!
I'll be posting news/events in the book world.
Information from Authors, Publishers, Blogger news, Giveaways and anything else that may be helpful to you.
If your hosting an event and want to be part of the news post contact me, leave a comment below or e-mail me directly here pnrurbfantasyreview @ hotmail.com
Author News:
Goodreads
has announced the Choice Awards 2012 Winners HERE
Did your favorite book make the list(s)?
OMG!! Finally!! Hush Hush saga will be adapted to a movie!!!!! Loved that series, but I still need to read the last book Finale, as it sits and collects dust on my shelf! Check out
Becca's
tweets as she asks who should play the character's in the series!!
Via EW website HERE
Forget vampires; these days, angels are where it's at. EW can exclusively reveal that Becca Fitzpatrick's bestselling Hush, Hush Saga is heading for the big screen. LD Entertainment has optioned the film rights to the four-book YA series, with Greek creator Patrick Sean Smith set to write the screenplay for the first installment.
Hush, Hush follows Nora Grey, a 16-year-old who catches the attention of Patch, her gorgeous, yet enigmatic biology partner. When she starts experiencing mysterious hallucinations, Nora learns that she's at the center of an age-old conflict that reaches the heavens itself. Patch is fallen angel desperate to be human again, but that humanity could come at the cost of Nora's life. Will he sacrifice Nora to save himself?
Between the recent release of Finale — the fourth and final book in the Hush, Hush Saga — and the movie deal, Fitzpatrick feels especially blessed. "It's a big month for me," she exclaimed. "I'm just trying to handle one thing at a time." That doesn't mean she's not thrilled to see her series getting the movie treatment. "It's been in the works for almost a year," she gushed. So is she worried about how Hush, Hush will translate to the big screen? "When I'm writing, I see it very visually in my head, so I feel it will be very easy to adapt," she said.
Still, Fitzpatrick is a little concerned with finding the perfect people to play Nora and Patch. "That's always the hardest part to nail in any movie — making sure you get the right actors and that they're portraying the characters well." But the author does have two actors in mind for the lead roles. "I started writing Hush, Hush almost ten years ago, so I was picturing actors who are obviously now too old to play the parts. I wanted Steven Strait for Patch and Emmy Rossum for Nora, but that won't work anymore." Since she can't have Strait and Rossum, Fitzpatrick "would hope for someone that hasn't been discovered yet. Other than that, I'm just going to leave it up to LD. I trust them to do a good job." Production on the first film is expected to begin in fall 2013.
Publisher news:
Simon Teen is having an amazing daily giveaway on their FB page
HERE
Harper Teen
About HarperTeen Impulse
Feed your e-reader! New e-novellas and short stories are ready to download every month.

These bite-sized ebooks are the perfect way to discover a new author, learn more about your favorite characters, or try out a new series.
More Info
HERE
Harper Collins has brought back Pitch Dark Days. This Winter collection will include the amazing books below as well as more daily releases
Want to see what's next?
HERE
For all my INT guest
Buy One, Get One Free on Strange Chemistry Launch Titles!

We're approaching the first Christmas of our Strange Chemistry imprint, and we would like to reward everyone who has supported us on this fantastic journey so far.

As such, for the rest of December, we are offering Buy One Get One Free on the five launch titles for Strange Chemistry through the Robot Trading Company.

Ebook Only!

We're afraid that this offer is limited to the ebook product.

The offer includes the following ebooks:

BLACKWOOD by Gwenda Bond

SHIFT by Kim Curran

POLTERGEEKS by Sean Cummings

THE ASSASSIN'S CURSE by Cassandra Rose Clarke

KATYA'S WORLD by Jonathan L Howard

This gives you a wonderful mix of fantasy and science fiction, female and male protagonists, UK and US settings. It's a fantastic opportunity for you to either start or complete your Strange Chemistry collection.
Blogger News:
If you live in New England or anywhere for that matter, check out this amazing author line-up hosted by
Megan of
The Book Asylum
, Cristina of
Cristina's Book Reviews
, and Trisha are organizing an author singing event in Boston on March 16th, 2013 at the Omni Parker House.
FREE EVENT Must register and more info

HERE
Saturday, March 16, 2013 from 12:00 PM to 4:00 PM (PDT)
Facebook HERE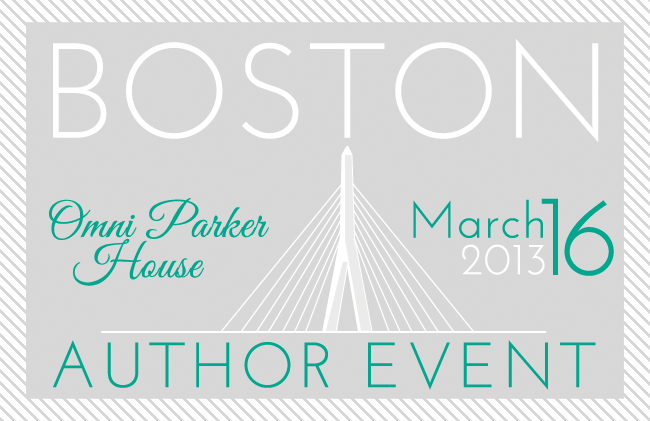 We are excited to announce the first ever Boston Author Event (BAE)! This book signing will feature these best selling independent and published authors coming to Boston for one day only:

Aesta's Book Blog is having an author event where you can ask your favorite author(s) or Character(s) listed below questions Check out the entire post
HERE

Is having an author event
Readers, this one is for you!!
Do you have a question you'd like to ask your favorite author(s)?
Is there anything you've ever wanted to ask your favorite character(s)?
Now is your chance to

submit any questions

you have.
Fill in the form below for your chance to WIN an eBook of your choice under $5.00
I've been hinting at a BIG surprise event that's going to take place here in December….
and now is the time to tell you what it is!!!
I'm very proud to be hosting the

If any of these names make your heart flutter, you will LOVE this event:
* KELLAN * JAKE * BRIAN * RYAN * SIMON * WILL * LUKE * JAMES * CALEB * CASH * HAWK * SHANE * JOSH * MICHA * WILLIAM * T.J. * CHRISTIAN * GHOST * ANDREW * MICHAEL * CARTER * LEE * JUDE * AIDAN * NASH * (another) LUKE *
Okay, here's what the event is about:
Starting December 10th and running every,

single

day

until December 31st, I'm going to be hosting a series of "Author Days".
Each day will feature one of our fav authors and include:
Interviews.

Teasers and snippets for upcoming books.

Cover reveals.

and…

DAILY GIVEAWAYS!!!!

(Signed Copies, Paperbacks, eBooks, ARCS, you name it…)
Favorite Review(s) of the week
around the blogosphere...
Candace, from Candace's Book Blog
had an amazing Review for Hale Maree
She totally has me excited to read this one!
Read the full review HERE and enter the giveaway!

Amy from Book Loving Mom, reviewed Flawed, she shares her, amazing, emotional review
HERE
My buddy Kristin reviewed
Of course she had me @Shirtless Sebastian ;)